Small steps make big differences
Your support is making a difference for the lands and waters of western oregon.
Conservation Easement Acres
Acres Rematriated to Local Tribes
Acres transferred to federal ownership
Protecting Land, Together
McKenzie River Trust works with willing landowners to help protect and care for Oregon's lands and rivers. As a local land trust, we offer several tools to help landowners protect their land from the Cascades to the Coast in Lane, Douglas, and Lincoln counties.
Simply put, our volunteers are amazing. Each year, hundreds of community members like you join in to help protect and care for land and water from the Cascades to the Coast. Volunteers plant trees, remove invasive plant species, lead tours on protected lands, conduct species surveys, and more. Individuals, families, groups, and business groups are all welcome to volunteer!
As a nonprofit organization, McKenzie River Trust relies on the generous support of members like you. Each year, nearly 2000 households across western Oregon make the incredible choice to invest in clean water, abundant fish and wildlife habitat, and thriving communities. We invite you to join us in the good work by becoming a member of McKenzie River Trust today.
Restoring Natural Systems
McKenzie River Trust cares deeply for the land, water, animals, and people in our communities. We take an innovative approach to restoration working with experts from across the field to design and implement large-scale projects that benefit fish and wildlife. From upland oak prairies to streams and coastal estuaries, we're working to enhance habitat for Oregon's threatened and endangered species.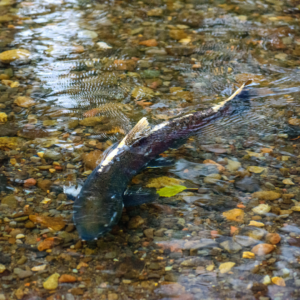 Chinook salmon making their way back up the McKenzie River have found more places to lay their eggs thanks to years of work restoring floodplains throughout the watershed.
Read More »
Each fall, partners work together across our region to include controlled ecological burning in areas where habitat restoration has been completed or is underway. Ecological burning in natural areas benefits native prairie, savanna, and oak woodland habitats while also reducing the potential for severe, high-intensity wildfires by removing built up fuels including dense shrubs and thatch.
Read More »
Three years after the Holiday Farm fire burned more than 173,000 acres in the McKenzie River valley, partners are celebrating the completion of floodplain restoration work at Finn Rock Reach. Beginning in the summer of 2021, restoration activities have included reshaping nearly 90 acres of floodplain forest and returning the area back to aquatic habitat along the Middle McKenzie River.
Read More »