Fall Special Invitation Tours with McKenzie River Trust
Join us on the land to explore the work of McKenzie River Trust. This fall, Living River Circle members and Confluence Legacy Club members are invited to get outdoors and experience the beauty of the lands and rivers you help to protect and care for as a McKenzie River Trust Member. 
Each tour is limited to 6 participants and will take place outdoors with physical distancing. Explore the calendar below. To sign up, click on the time and use the event details link to access the registration page. 
McKenzie River Trust in the News
Think Outloud, OPB September 2021
The Register-Guard September 2021
Eugene Weekly September 2021
The Register-Guard October 2020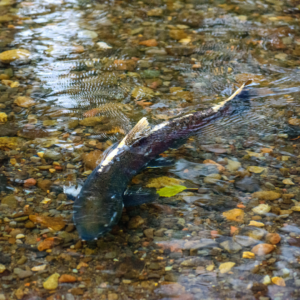 Chinook salmon making their way back up the McKenzie River have found more places to lay their eggs thanks to years of work restoring floodplains throughout the watershed.
Read More »
Each fall, partners work together across our region to include controlled ecological burning in areas where habitat restoration has been completed or is underway. Ecological burning in natural areas benefits native prairie, savanna, and oak woodland habitats while also reducing the potential for severe, high-intensity wildfires by removing built up fuels including dense shrubs and thatch.
Read More »
Three years after the Holiday Farm fire burned more than 173,000 acres in the McKenzie River valley, partners are celebrating the completion of floodplain restoration work at Finn Rock Reach. Beginning in the summer of 2021, restoration activities have included reshaping nearly 90 acres of floodplain forest and returning the area back to aquatic habitat along the Middle McKenzie River.
Read More »