Owned Property
Size: 216 Acres
Acquired: December 2010
Location: Lower Siuslaw River between Florence and Mapleton
How it was Protected:
The McKenzie River Trust purchased the property with funding from the Oregon Watershed Enhancement Board. OWEB also holds a conservation easement on the property.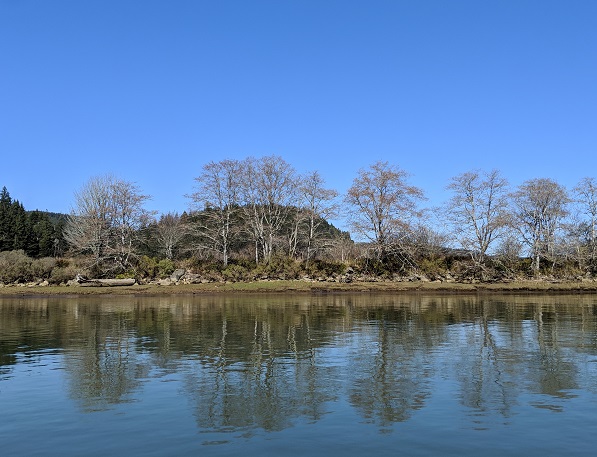 Made up of deep tidal channels snaking through multi-layered vegetation and abundant woody debris, tidal swamps are now almost completely gone from our region.
Why It's Important
This historic estuary on the lower Siuslaw River just upstream from Cushman Landing has long been identified as a conservation priority. Historically, the property was home to emergent marsh and Sitka spruce and crabapple tidal swamps. Habitats like these once blanketed the estuaries of the Pacific Northwest. Made up of deep tidal channels snaking through multi-layered vegetation and abundant woody debris, tidal swamps are now almost completely gone from our region.
The Confederated Tribes of the Coos, Lower Umpqua, and Siuslaw Indians (CTCLUSI) and the Siuslaw Watershed Council (SWC), in conjunction with the McKenzie River Trust and other partners, will lead a major restoration project on the property in the coming years to restore the estuary and re-establish tidal exchange between the river and the property's interior. Restoration will re-build the complex estuary ecosystem, benefitting native fish like coastal coho and Chinook salmon and steelhead, and many other sensitive birds and wildlife species.
Waite Ranch Tidal Wetland Restoration Goals
A central goal of the restoration project is to benefit local landowners and the community both ecologically and economically. The conservation benefits of the project include the enhancement of tidal wetlands which filter water and buffer storms and floods. Economic benefits of restoration include good jobs for local contractors, more revenues for local business resulting from increased river recreation and tourism, and stronger fisheries as a result of new nursery habitat for salmon and other fish.
Project partners will ensure a successful restoration project through planning, upfront investments prior to restoration, and strong partnerships between the land trust, watershed council, local contractors and state and federal agencies. Maintaining the existing Highway 126, a core transportation artery connecting the Oregon coast to the Willamette Valley, is an important goal of the project. The highway currently floods a couple of times a year.
Enhancing ecosystems
Approximately 211 acres of tidal estuary habitat are expected to result from restoration, along with about 10 miles of tidal channel. This habitat could offer a home and refuge for many sensitive fish and wildlife species, including American bald eagles, shorebirds like the marbled murrelet, and fish such as coastal coho, steelhead, and Chinook salmon.
Project Partners Include:
Siuslaw Watershed Council
Confederated Tribes of Coos, Lower Umpqua and Siuslaw Indians
Green Point Consulting
The Port of Siuslaw
Oregon Department of Fish and Wildlife
Oregon Department of Transportation
Oregon Watershed Enhancement Board (OWEB)
National Oceanic and Atmospheric Administration (NOAA)
Army Corps of Engineers
Environmental Protection Agency
US Fish and Wildlife Service
South Slough National Estuarine Research Reserve
United States Forest Service
Ecotrust
How you can get involved
Call or email us to let us know you're interested in the Waite Ranch property. We'd love to tell you more about the projects happening there.
Check out Waite Ranch while you enjoy the Siuslaw Water Trail, a recreation magnet for boaters, birders, and anglers. Because it is an active restoration site, Waite Ranch is not currently publically accessible by land, so one of the best ways for visitors to view the property is from the Water Trail.
Sign up for our contact list. We send out invitations to events and tours on a regular basis.
Get involved with the Siuslaw Watershed Council. The council has deep connections throughout the Siuslaw Watershed and Coastal Lakes communities, and would love to hear from you.